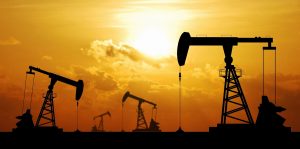 MARKET INSIGHTS | OIL & GAS 
A PROJECTION OF BRENT CRUDE OIL PRICES IN 2020 & 2021
PUBLISHED MAY 11TH, 2020 BY ALAN STEIN 
The impacts of the Covid-19 "Black Swan Event" on energy markets has caused a significant disruption in demand for crude oil in 2020. Brent crude oil prices have been falling since the beginning of 2020, driven by a swift global economic contraction.
As long as the Covid-19 global economic disruption continues to cause social distancing considerations, reduced global travel, spending restraint, and business failures, Brent crude oil prices will remain below $40/bbl. Pricing below $40/bbl will force the decline in the number of active operating Oil Rigs since they will no longer be able to operate profitably. Many producers have already announced plans to reduce capital spending and have cut back on drilling wells.
Even with the production cuts among OPEC (Organization of Petroleum Exporting Countries) a supply surplus is being projected through 2021. The US Energy Information Administration projects an average of $23/bbl for Brent crude oil in the second quarter of 2020 and an average of $30/bbl during the second half of the year. They are currently projecting a slight recovery of $46/bbl in 2021, if surplus inventory declines.
First Boca Associates (FBA) can leverage its deep industry expertise and personal relationships to employ content-focused campaigns to a targeted, selective audience in order to achieve client objectives.
Simply complete the FBA contact form on our website here, and we will contact you to learn about your company and objectives with a free introductory call.
ABOUT THE AUTHOR: 
ALAN STEIN IS PRESIDENT OF FIRST BOCA ASSOCIATES, INC.. HE HAS OVER 40 YEARS OF EXPERIENCE AS A BUSINESS OWNER AND BUSINESS MANAGER. ALAN HAS REPRESENTED COMPANIES IN A BROAD RANGE OF INDUSTRIES, HELPING OWNERS THAT ARE SEEKING FUNDING, STRUCTURING AN ACQUISITION AND/OR PLANNING THEIR EXIT STRATEGY.
ALAN IS A GRADUATE OF THE UNIVERSITY OF MIAMI, FL AND EARNED HIS BBA AND MBA DEGREES IN FINANCE. HE HAS BEEN A BUSINESS OWNER, A LICENSED LIFE, HEALTH, PROPERTY AND CASUALTY AGENT, A CERTIFIED INSURANCE COUNSELOR, A PARKLAND, FL CITY COMMISSIONER, AND CURRENTLY HOLDS A FL REAL ESTATE BROKERS LICENSE.